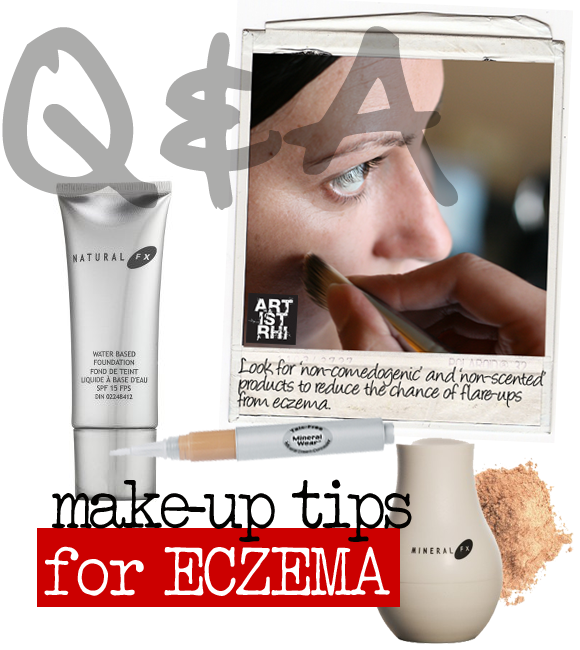 Q: I have eczema on my face, especially above my upper lip, and around my cheeks. When I apply make up, especially powder (I use MAC Studio Fix powder plus foundation) it goes a little flaky. I moisturize my face quite well with Lancome Aqua Fusion and only when I apply make up do these parts of my face flake up. Also, sometimes when I apply eye shadow (I use Lancome eyeshadows) you can tell that they're dry. Do you have any suggestions to what I could do?
A: With eczema, (as you probably already know!) you have to be especially careful in what products you use. Look for key descriptors like "sensitive skin", "non-comedogenic" and "non-scented" when buying. The less the amount of synthetic ingredients that a product has, the less of a chance of a flare-up for eczema-prone skin. As with any type of skin, be sure to moisturize thoroughly before applying your make-up, as a great face always starts with a great base (of hydrated skin!)!
Foundation
For foundation, the MAC Studio Fix powdered foundation is likely too dry of a formula for eczema prone skin. The trick with applying foundation on eczema-prone skin is finding a formula that provides coverage without looking dry/cakey. If you use a product that's too drying in nature, you can end up drawing more attention to any irritation/dry spots from eczema.
Instead of a powdered foundation, try one of the following options:
i). mineral powder
Mineral make-up is derived from natural ingredients, which versus other foundation can greatly help to reduce the chance of a flare-up. A couple of layers leaves the skin feeling lightweight, but mineral formulas are also quite buildable so moderate coverage is easily achieved. Use a soft (and clean!) large-sized kabuki brush to gently apply the make-up on the face. Bonus: The soft bristles of the kabuki massage will feel like a well-deserved mini-massage for the face!
ii). water-based foundation
Water-based foundations are non-comedogenic, making it a better choice for sensitive skin types. You can apply a non-comedogenic water-based foundation on its own using a brush or a sponge. Use a stiple motion to build up coverage and blend evenly over face. If you only need minimal coverage, add an equal-sized drop of the foundation to a pump of your moisturizer. Mix well and you'll instantly have a lightweight tinted moisturizer. Once your base is done, set your foundation with only a light dusting of powder. For eczema prone skin, always avoid over-applying powder as too much powder will only accentuate dry spots.
Products to try: CoverFx foundations – their entire line is developed for the most sensitive of skins, and also includes skin primers, concealers, bronzers and blushes
Redness
Redness from irritation often goes hand in hand with eczema. You can easily create an even canvas by applying a few layers of foundation. But for more prominent redness, target a creamy yellow colour corrector atop the red areas to neutralize them. Follow with your skin tone foundation for an even complexion and set with a light dusting of powder.
Note: You can also use a green corrector to conceal the redness, but I personally prefer the warm finish that applying the yellow corrector gives rather than the typically white-ish cast (I know, 'white-ish' not a word!) that a green concealer leaves behind. Whichever colour corrector you choose, be sure to blend your skin tone matching concealer atop to camouflage the area!
Products to try: Physicians Formula Mineral Wear Talc-Free Mineral Cream Concealer
Eyes
Make sure you are also moisturizing your eyelids as you do the rest of your face at the start of your beauty routine; smooth skin on the eyelids is a prerequisite for blending eyeshadows with ease. For eczema-prone skin, opt for mineral-based and matte eyeshadows rather than heavy shimmer or glitter textures. Particles of shimmer and glitter eyeshadows can irritate sensitive skin, and also draw attention to to any dry spots around the eyes.
Overall when it comes to eczema, use a 'less is more' approach and make sure you always read the packaging. Hope this helps and let me know how it goes! :)