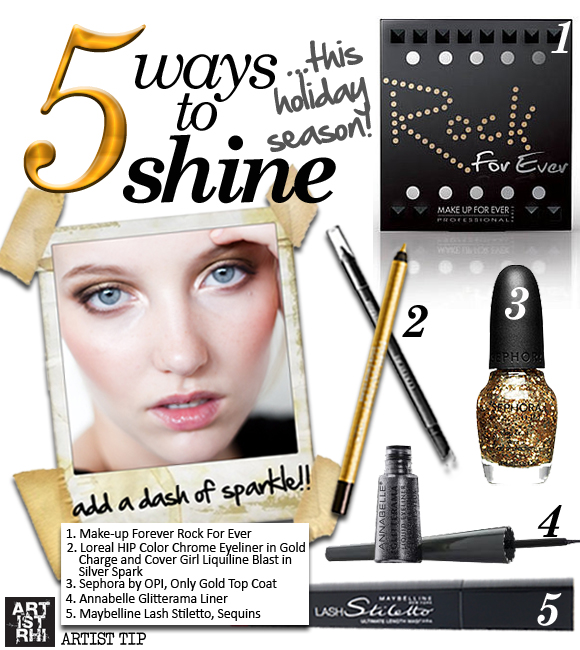 Add a dash of glitter and dress up your holiday look (just in time for New Year's!)
'Tis the season where glitter make-up suddenly becomes all kinds of acceptable! Try a couple (you really don't need more than a couple) of these products to dazzle up your holiday look, but save the glitter overkill for Kesha! (Oh sorry, correction: Ke$ha).
1.  Make-up Forever Rock For Ever Quad Eyeshadow Palette

This heavy metal inspired palette is high drama and instant rocker glam.  The shadows are of the usual amazing MUFE quality: smooth, easy to blend and strongly pigmented. All the shadows in the Rock For Ever palette are shimmery in texture, but finely milled enough to work across a larger range of ages.

No need to wear all the colours at once (just. please. don't) – combine 2 shades at most…AND rather than applying shimmer textures all over the eye area, either concentrate shimmer on the eyelid, or keep it on the browbone and inner corner…and you won't have to worry about glitter overkill!  (In fact for a no-brainer way to wear glitter, keep it sparkly on one area of the face…rather than wearing shimmery textures on eyes, cheeks and lips!).  I'm all for the eye-catching effects of glitter, but the trick is to control the application for a sophisticated finish (rather than a hit-by-a-glitter-truck look!).

See more with MUFE's Rock For Ever palette here.

2.  Shimmer-liners:  L'oreal HIP Colour Chrome Eyeliner in Gold Charge and CoverGirl Liquiline Blast in Silver Dusk

A metallic eyeliner is an easy way to dress up the eyes.  Whenever you work with a coloured eyeliner, make sure to always anchor the look and add black mascara to the lashes (and even a thin black line to the lashline to help make the eyes pop!).

For a bold metallic look, try L'oreal's Gold Charge and for more of a subtle sparkly effect, opt for CoverGirl's Silver Dusk.

3.  Sephora by OPI Only Gold Top Coat

Nails are hands down (ok, bad pun) the easiest way to dress up your beauty routine with some glitter!  Wear this glitter polish on its own or over a neutral for a dazzling effect.  A glitter polish is perfect for the holiday party gal – the polish will catch the light beautifully and bring attention to the face, as you sip your drink! :)

There's something about chunky glitter that's ultra-fun and ultra-girly.  Wearing this on the nails reminds me of doing Christmas crafts in elementary school (yes, I was that kid that would hog the tube of sparkles! I like shiny things, ok?!).

4.  Annabelle's Glitterama Eyeliner

Like I said, I'm all for glitter, but only when applied in a controlled manner!  Loose glitter can easily get out of control, which can equal either frustration or looking like a disco ball.  One solution?  A glitter liquid liner like this gem by Annabelle Cosmetics.  Glitterama comes in a range of different colours (even a green that's called Kryptonite, no less!).  Wear a glitter liquid liner on its own, or over your regular pencil eyeliner for added intensity.  The nice thing about liquid liner is that once it sets, it's pretty much budgeproof making it a perfect party option.  Yep, I'm a fan!

5.  Maybelline Lash Stiletto Sequins

To add some sparkle to your eyes, why not try a glitter mascara?!  A glitter mascara is an easy, subtle way to add some controlled glitter to your holiday party look.

Similar to the regular Lash Stiletto, Stiletto Sequins lengthens the lashes but also has glitter built-in to its formula that adds a twinkle to the eyes as you blink!  Stiletto Sequins was a limited release product (I scooped mine up over a month ago, so not sure if it's still in stores), but Sephora usually offers glitter mascaras of their own in-house brand.